HERBAROM, partner of flavourists for more than 25 years
Proposing and developing natural plant extracts for flavourists is our daily work, allowing them to meet the challenges of naturalness and traceability that consumers expect.
Thanks to our expertise in the extraction and distillation of plants, HERBAROM has been a partner of flavourists and actors in the food industry since 1994. Our mission is to support and advise flavouring and food manufacturers in the choice and industrialisation of quality plant extracts to develop their formulations.
HERBAROM, your partner in natural plant extracts
HERBAROM was born precisely from the desire to offer botanical extracts from the controlled cultivation of plants full of stories, in order to obtain their most beautiful expressions.
With our expertise in plant extraction and human food, we have acquired a historical know-how around both the sensory and functional aspects of natural ingredients.
A true business partner, we support you at every stage of your project to:
source and set up contracts for controlled crops
offer a range of essential natural extracts
support the development of tailor-made extracts
design specific ingredient mixtures
set up industrial production contracts for your extracts.
Naturalness, to meet the needs of consumers
In recent years, consumers have shown a keen interest in products that are more natural and respectful of their health and the environment. Faced with these new expectations, today, the food industry is innovating in order to develop new products or find alternatives, particular in terms of aromatic products based on traceable natural ingredients.
Offering an authentic taste experience and maintaining the sensory characteristics of consumer products by choosing top-quality natural ingredients is essential. Actors in this market are strengthening their efforts to source botanical extracts locally and, in particular, in France.
HERBAROM is located in the south-eastern quarter of France, a particularly dynamic region in this field. This land specialises in the production of PAMP (Perfume, Aromatic and Medicinal Plants) with significant resources in supply chains and raw materials.
Production and markets for natural extracts in food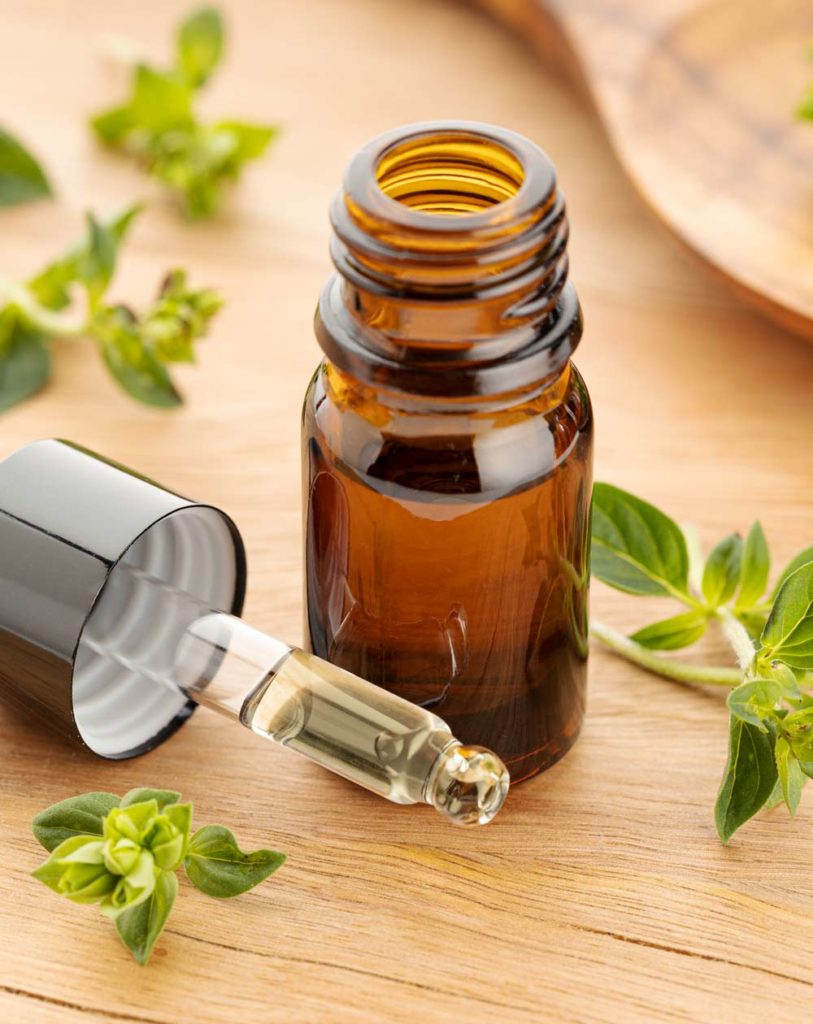 Within the food sector, the market for natural ingredients is in continual growth. This trend is driven by a growing demand for functional and more authentic foods, as well as sugar-free, salt-free, fat-free, gluten-free and additive-free products. More broadly, they are used in a wide variety of applications including culinary flavourings and beverages based on plant extracts.
As such, a flavouring can only be described as natural if the flavouring agents in its formulation are natural (e.g. mint extract, lemon essential oil, thymol, etc.).
There are various techniques for extracting molecules of interest from a plant for flavourings. 
At HERBAROM, we make use of industrial tools based on gentle extraction and distillation techniques. This allows us to obtain:
essential oils
extracts,
infusions,
absolutes.
Flavoured waters and functional drinks: why integrate natural ingredients?
France is the third largest market in Europe for alcohol-free beverages, after German and Italy. This market is growing steadily, especially in terms of energy and hot drinks.
The range of alcohol-free beverages has been significantly boosted by innovation in terms of fragrances and flavouring.
Consumer expectations mainly focus on:
Naturalness and transparency: fewer sugars, fewer additives
Practicality: adapting to consumers' lifestyles
Nutritional qualities: search for nutritional and health benefits
Enjoyment and quality: the taste above all!
The range of applications in this regard is wide: flavoured waters, juice drinks, sodas, iced coffees and teas, syrups, instant powder drinks, non-alcoholic beers and cocktails, and, of course, functional drinks.
The most highly sought-after benefits for consumers concern drinks that target:
Energy
Immunity
Detox
Stress management and sleep
As an expert in plant extraction for human consumption, we bring both sensory and/or functional ingredients to beverages. We specialise in liquid formats to facilitate incorporation into your beverage projects.
Regulatory competence and expertise
In the face of these new consumer trends, regulations regarding the use of botanical extracts in food are continually evolving to better protect consumers.
There are two regulations governing the use of flavourings in food:
Regulation (EC) No 1331/2008 provides the regulatory framework for flavourings in Europe. 
Regulation EC/1334/2008 provides the conditions for the use of flavourings (prohibited substances, dosages, labelling rules, etc.), the types of natural flavourings and their names.
Our expert in-house teams can support you in ensuring the implementation of and compliance with applicable regulations.
DO YOU HAVE A PROJECT? 
ARE YOU LOOKING FOR A PARTNER LABORATORY TO ACCOMPANY YOU?
We'd love to hear from you. Our sales teams will be delighted to discuss this with you.